A REVOLUTIONARY TOOL TO DETECT CONTAMINANTS THAT AFFECT A WINE'S FLAVOR AND AROMAS
OPPORTUNITY: THE FEARED CONTAMINANTS
Wine contamination with moldy aromas and/or flavors is one of the most serious issues that affects warehouses throughout the world. This is one of the most unpleasant and most severely judged organoleptic defects, both for wine tasters and wine consumers alike, who are becoming more and more informed and sensitive to the characteristics of wine.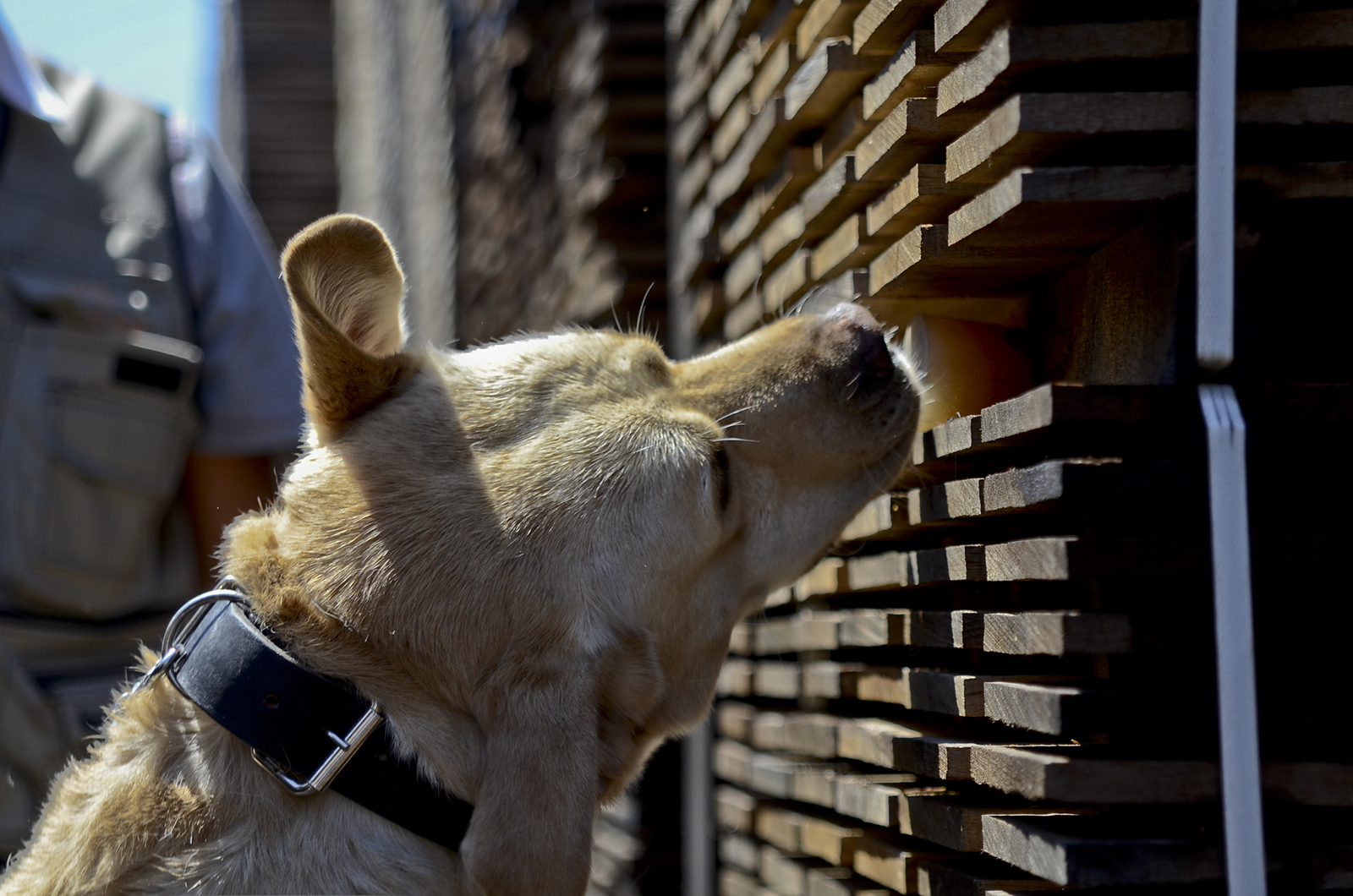 This phenomenon, up until recently, was only associated to the cork, which supposedly acted as a transmitter to the wine of the so called chloroanisoles, especially TCA, a compound capable of passing into the wine; an unpleasant and penetrating fungal aroma in very low concentrations.
Currently however, many more molecules which transmit unpleasant aromas to wines have been identified. Among these, chloroanisoles and bromoanisoles, and especially the 2,4,6- trichloroanisol (TCA) and 2,4,6-tribromoanisal (TBA) constitute the most frequently identified compounds in the wines considered as "moldy" or "corked" during wine tastings. The physiochemical characteristics of these contaminants explain why, despite their elevated boiling points, the halophenols and haloanisoles are easily found in farm atmospheres, which contain more than a few emission sources.
The problem's true origin is not the presence of fungi growing on the cork or wood, but rather the elevated environmental contamination of chlorophenols and bromophenols which are transformed by these microorganisms into the corresponding anisoles. For this reason, it is very important to perform preventative tasks to avoid contamination by these pesticides.
The wine's moldy or musty flavor and/or aroma, in part, is a consequence of the presence in the environment (whether in air or water) and in supplies (paints, varnishes, filtered earth, wood, among others) of microorganisms (especially filamentous fungi), which upon entering in contact with a series of industrially used pesticides, develop a defense reaction which can produce haloanisoles. These pesticides are chlorophenols, fluorophenols, iodine phenols and bromophenols.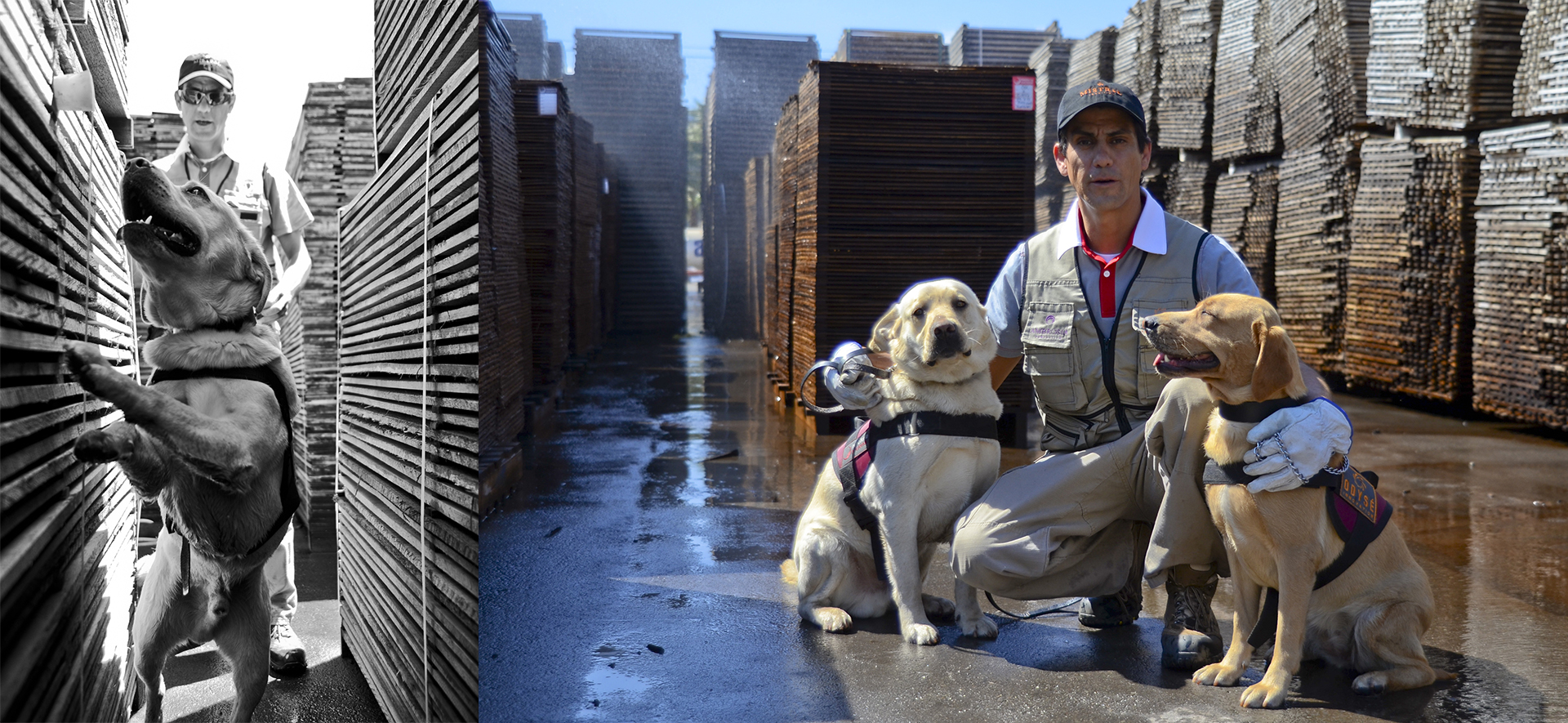 THE NATINGA PROJECT
In 2010, upon analyzing this situation, TN Coopers decided to broaden its view and focus on developing a tool which would allow early detection of contaminants, identifying the problem at its source. The winegrowing industry would require a hypersensitive tool, and the answer was not in technology, but rather… in the animal kingdom. After 2 years of training, TN Coopers presented their two contamination detection experts: Ambrosia and Odyse, two friendly and keen Labrador retriever puppies. Two years later, Moro joined them.
Labradors are not just the most popular pet in the world, but due to their traits, these dogs are used for many different activities, like hunting, search and rescue, guide dogs, assistance, therapy and others. They have, without a doubt, an extremely sensitive sense of smell, which is why, 2 years after they started training, Moro, Ambrosia and Odyse, according to experts in the area, have been a complete success.
The dogs went through a socialization and physical reinforcement stage, and have become well trained in detection matters. When they put on their uniform, their attitude changes immediately: vigilant and alert, they run around our facilities or our customers vineyards, and when they reach the source, they give a clear signal where the origin of the contamination is.
For TN Coopers, the goal of the Natinga project is to provide innovative support for the winemaking industry by developing a permanent vigilance program related to raw materials, along with an infrastructure and processes for wine production, providing their clients with a unique service that can make a difference between a quality wine and one that simply needs to be thrown away.
Today, wine cellars analyze their environment, place traps with Bentonite earth to capture what there is in the environment and if these read positive for contaminants, the most difficult part begins: the search for the sources. This is where a trained dog becomes a valuable tool for the winemaker.
Training: TN Coopers regularly controls their facilities. The run takes place between 6:30 and 7:30 in the morning, when the air is at its purest and the aromas have not yet been dispersed by the temperature of the day. The routine considers inspecting the wood park, production areas and supplies depot, as well as the finished products.
With an annual rotation inside the plant of over 400 containers for both imports and exports, the environmental control with the dogs has become a protocol, and it is not strange that they reject something due to serious suspicion of a contamination risk. This is produced by the water and chlorine washing containers experience in the depots, often being renewed with chlorinated paints. This condition, added to the wooden floors, clearly represents a potential risk for the Industry.